NEW YEAR'S EVE BARBEQUE
December 2005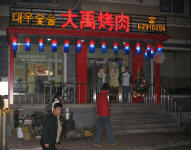 On the last day of 2005, we celebrated another year gone by with two of our good Chinese friends. We planned to go to a Korean restaurant, make cookie dough, throw firecrackers out the window, and watch a pirated Batman Begins DVD. We felt it was a suitably eclectic combination of activities to mark the passing of 2005.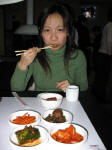 There is a brand new Korean restaurant right by our house, and every time we walk by, all the staff is sitting at the tables watching TV because there are no customers. So we decided to give them a little business on New Year's Eve. There seems to be 4 main types of Korean food: spicy soup, salted cold vegetables, pancakes, and meat which they serve raw and you grill yourself. Wanting to have a proper meal, we ate all of these. We ordered two plates of raw beef and a plate of sliced sweet potatoes for grilling. The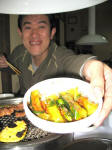 meal came with four small dishes of salted vegetables: cucumber, potatoes, carrots and something else that I'm not sure what it was. It should be noted that the cucumber was just half of a whole cucumber, but Charlie managed to slice it up using his chopsticks. We also ordered a bowl of beef and tofu soup, a vegetable pancake made from potatoes, and a sticky rice pancake. In the center of the table was a little round grill, and after we ordered the food, they brought a pot full of hot coals and put it in the center of the table with a grate on top. We grilled the meat and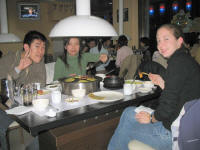 sweet potatoes, while nibbling on the side dishes. It was quite delicious and definitely a unique experience to have a barbeque in December.
After the restaurant, we went back to our apartment. Zac showed Charlie how to make cookie dough. Since we don't have an oven to actually bake the cookies, our plan was to just eat the dough, which had been garnished with M&Ms. It turned out to be too sweet to really eat, so we each just had a few spoonfuls. We tried to cook one in our tiny toaster oven, but only managed to burn it into a crispy, smoldering blob.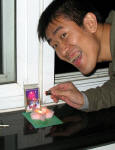 Then Zac brought out the small box of firecrackers that one of his students had given him. Charlie lit them, sometimes three or four at a time, and threw them out the window. It was quite fun because the little explosions echoed off of the buildings. The scary thing was that the firecrackers didn't have a fuse–so we were always afraid they were going to blow up in our kitchen. Then we watched a Batman Begins DVD. When it was over, it was only about 11:00pm, but our friends went home. Apparently they don't really have the tradition of staying up until midnight on New Year 's Eve.
So we clicked on the TV and watched a live New Year's Eve special. There was a big clock hovering in the sky, and as the last minute of 2005 clicked away, fireworks exploded at every numeral. After that, they broadcast a speech by President Hu Jintao, saying all of the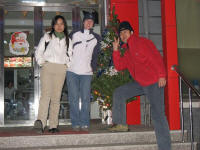 wonderful things China will achieve in the new year. It was a bit odd because he wasn't giving the speech to an audience or press conference. It was only for the camera, so it was eerily quiet the whole time he was speaking—no applause every few minutes like in the State of the Union address.
All in all, our entry into the new year in China was actually kind of surreal, especially knowing that there were still 13 hours of 2005 left back in Ohio and the real Chinese New Year was nearly a month away. But, here we are, successfully transported into 2006 nonetheless.
Happy New Year everyone!