The Arcaro Rest Camp
May 2003

Are your summer vacation plans bogging you down, keeping you awake at night? Do you want to go somewhere that has palm trees and sand, yet is not overrun by other tourists? Did you just inherit two grand with the stipulation that it must be spent on airfare to a little-known country in southern Africa? Do you like cows? If you answered "Yes!" to any of these questions, then Namibia is the place you ought to go!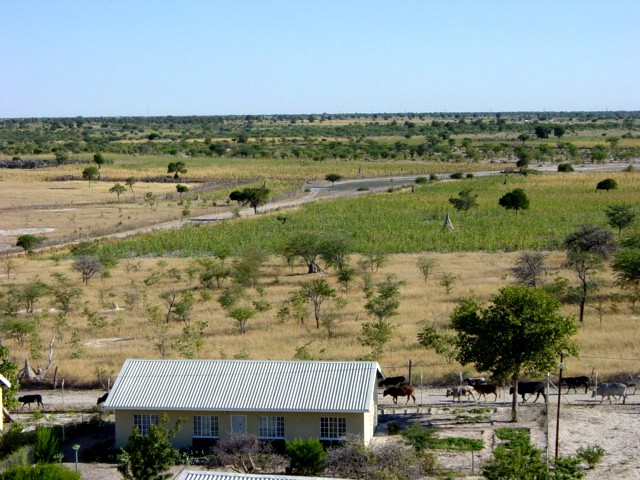 At the Arcaro Rest Camp (ARC), conveniently located 80km southeast of the bustling metropolis of Ondangwa and only 15km from the gate to Etosha National Park, we provide guests with the classical experience of cattle post Ovamboland. Come experience the joys of waking up to bellowing livestock. Spend your mornings watching the cattle walk one direction and your evenings watching them walk the other. Other pastimes include watching butterflies, sunsets, flowers, ants, birds, giant beetles, frogs, and people.
The ARC provides accommodation free of charge to visitors who speak English fluently and are willing to tell stories about what's happening out there. Bringing burned CD's and cherry pie filling will also win you the favor of the host and hostess. For your convenience, the ARC has several modern amenities such as electricity, flush toilets, hot showers, a very slow lap-top computer, and Travel Scrabble. For your dining pleasure, we serve breakfast, lunch, and dinner from an extensive menu of creative concoctions comprised of a few key ingredients. For the potato-pasta-rice-lover, there could be nothing better. Meals are also free, but you have to help with the washing-up. Sleeping accommodation is on a first-come, first-serve basis—eg, if you get here first, you get a bed; if you get here second, you get a bed; if you get here third, you get a sleeping bag on the floor where the freak spiders might crawl over you. So you make your travel plans today!