Saving Face
18 March 2003

"All their customs are upside-down…"
"That is very bad," said Obierika's eldest brother. "But what is good in one place is bad in another place."
—Things Fall Apart by Chinua Achebe
Hello,
Not too much is happening right now. I am sort of at a low point in teaching. During the May holiday I am going to go on a mental sabbatical to create a new teaching strategy. I feel like I am not being very effective and at the same time the learners are beginning to frustrate me because they go to great lengths to avoid thinking. Furthermore, what they told us during our cultural training about how people will try to "save face," is manifesting itself in that the learners simply lie all the time. Perhaps it is because they were raised in a corporal punishment system and so lying became their method of defense against being beaten? I suppose it is a cultural thing and I shouldn't take it personally, but I really hate it when people lie to me. It is so bad that I've come to the point where I just assume they are lying unless I have a reason to believe otherwise, which is rare. How do I teach 9th and 11th graders the importance of being earnest? Just telling them isn't enough.
I've become so desperate that I've even considered bringing in the Bible as an authority, hoping they will respect it. People are pretty religious around here and there's not a separation of church and state. Every Monday and Friday morning, there is an assembly where they raise the flag, sing the national anthem, then a learner reads a passage from the Bible and leads them in prayer. And then they all go to class and start lying to me. Maybe it should be my goal for my two years here to teach them to not plagiarize, not lie, and not steal. I've almost taught them to not steal my chalk, after only 2 months! I've got to count my few successes. Although, I don't think they've really learned the moral reason to not steal my chalk, they've just learned that I won't start class until they return it to me. So it goes.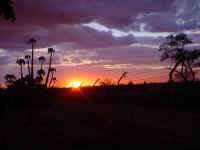 Friday 21 March is Namibia's Independence Day (13 years). It is also the day the sun goes from our half of the Earth to yours. We have a four day weekend, and so some of our fellow volunteers are coming to the Arcaro Rest Camp for a short holiday. We've arranged for a combi driver to drive us around Etosha National Park on Saturday, so hopefully we'll be able to send you some photos of Namibian wildlife next time. But pre-arranged events in Namibia have a tendency to fail, so I'm trying not to get too excited.
We send our love on the rays of the sun, may it warm your days!
-Sera